I don't have perfect skin (well at least on my face) and occasionally it grows unwanted sprouts called "pimples". Yes, the eternal problem for all mankind - the thing that we have no idea why it has to exist when some chosen ones are blessed with the smooth porcelain face.
It wasn't perfect starting highschool but after college, when I started working, my face started to become smooth again... until recently all hell sort of broke lose. Well, unfortunately hormones aren't cooperative when it comes to physical appearances and a surge of hormonal imbalance got my friends and colleagues ask me, "
what the hell happened!? Kimi, there's a big zit on your cheek!
"
A year ago, one of my bestest buddies told me, "
girl, what did you too? Your skin is perfect! It's different now (compared to college)
" and I was like, "
nothing, really. Just... hmmm.. nothing.
" Errr.. annoying to hear the complete opposite of that today.
Now the hormones are being treated to stay balanced, I also have to do something about this face. Even if some people would argue that beauty lies within, we have to be honest that we need to look good and presentable. On top of that, I'm just a really vain person too so I wouldn't really have to explain myself because that fact alone is self explanatory. LOL.
Anyhooz... I was at Mercury Drug Store (yet again) with my mom after having our hair treatment. Then I was looking around and found this product: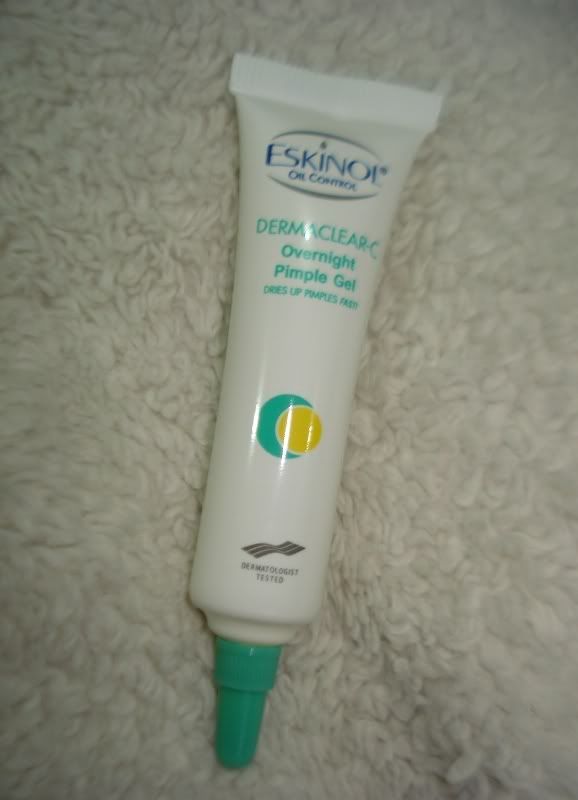 Yep, it's
Eskinol Dermaclear-C Overnight Pimple Gel
. I've never used this before and have tried other products from the dermatogists' clinic thinking that what they prescribed is better than what can be bought at the market. Then I thought, it's worth a try I guess. It's really cheap, I got it for only 103php (roughly $2.28) and it can be found virtually anywhere.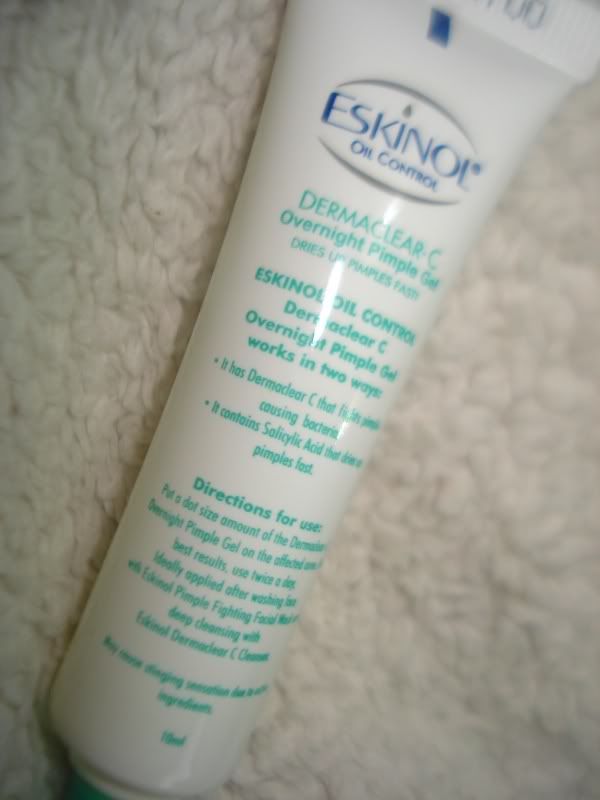 I'm just about to apply it (
like right after this blog cuz I'm about to take a bath and go to bed
) but of course, I read the stuff on it. Okay, it says "May cause stinging sensation..." blah blah.. yeah, that's tolerable.
Next, I also read reviews and so far all's positive saying that it's effective. Err why haven't I bought this ages ago?? It's just there waiting to be grabbed by me!!
Oh well let's see tomorrow for any improvements!
♥ ♥ ♥ xoxo ♥ ♥ ♥