2012 entered with a bang of both good and bad! This month has been both rough and busy for me, that's why I also wasn't able to post anything at all. Anyways, I've got some new stuff and I promise to work on the tutorial as I've said. No negative vibes must get in my head, teehee!
However, for now I'll be focusing on some pending reviews on certain products. I've also recently discovered one that I will soon share with you!

I would just love to share my favorite cosmetics. I actually got the pretty pink box bag for free! They usually have something to give away when you purchase items worth 1,500php or more! And according to their official FB page [
Majolica Majorca PH
] you can get a Loyalty Card when you purchase the same.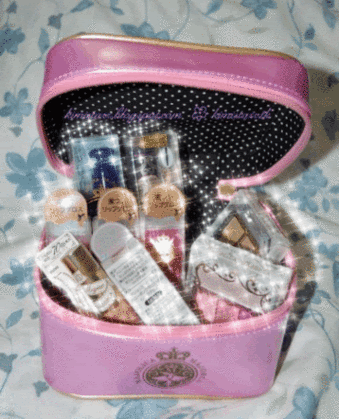 It may somehow be pricey compared to most drugstore cosmetics but it's definitely worth it! In fact, I find it relatively more affordable
The Lip Gloss is 295php only and the rest may amount up to 795php. I'm not sure if I'm just not observant or something but I think they don't have any items that would range more than 1,500php.

However, I've been also such a spender lately
Even if my Dadeh Geof is around!!! Which is amazing since he's the one who should (must) control my over-spending. We were found by this product (yeah, the product sort of found us) and I'll write about it too. It's pretty expensive so I'm a bit broke
But not to fear! February is here!